Effective. Affordable. Fun.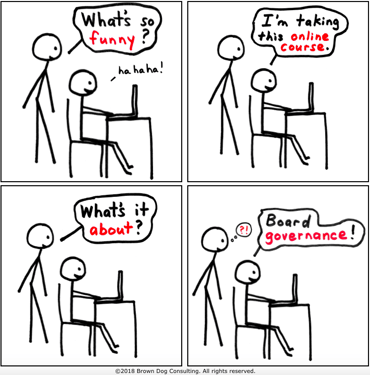 The Board EXCELerator is an innovative and engaging online learning platform that lets board and staff members:
get on the same page about the role of the board
distinguish between board vs staff decisions
create criteria for success without the usual 'red tape'
maximize freedom to innovate and get things done
know that the organization is making a difference.
This online course features illustrations, audio guidance, videos, quizzes, group discussion guides, and sources of more information. The content is presented in a clear, simple, and often light-hearted way, and all participants benefit from one-on-one coaching after completing the eight modules online.
This course is ideal for orienting new board members and training any other board or staff members who want to understand the 'what,' 'why,' and 'how' of Policy Governance® principles. One client says: "This course serves as the perfect solution for me to introduce all of our volunteer leaders to our new governance model. Brown Dog's resources gave me and our national Board of Directors the confidence to better understand how to use this model to govern."
For a free demo and more detail about this course, please let us know how to reach you.
What they are saying about the Board EXCELerator...
"[Brown Dog Consulting's] approach to how they explain Policy Governance is clear and succinct and will set you, your team, and your association up for success."
"The Board EXCELerator online training course is an affordable and effective option if you have any new board members or staff who haven't had the benefit of Policy Governance training yet and would like to understand the theory, the benefits, and how it works in practice."
"I have worked with the Carver Model since 2002 and the manner in which the trainer Susan Mogensen lays out the model and describes the concepts, makes the learning experience fun and entertaining. Thumbs up – great course!"
"Very straight-forward. Invaluable."